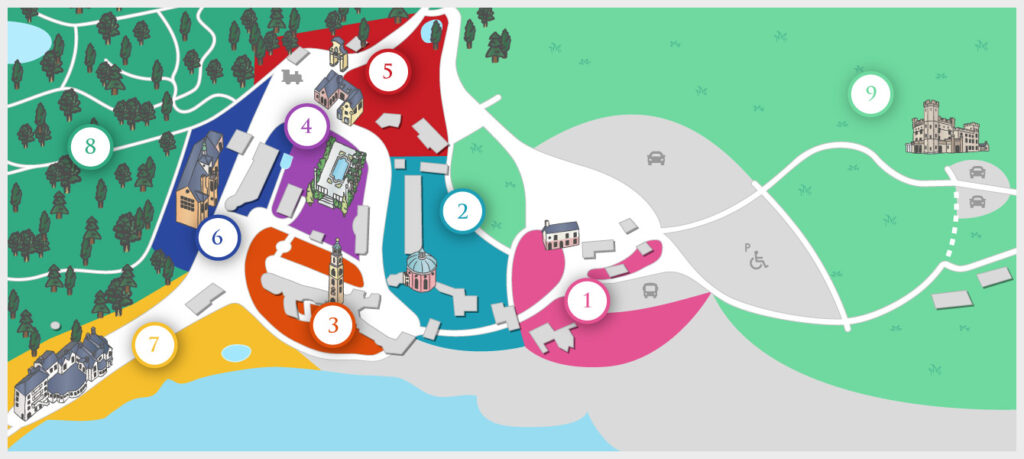 1) TOLL & WELCOME AREA
The Toll & Welcome Area is home to the Main Toll Gate entrance to the village, as well as the coach car park, Welcome Centre and public toilets.
2) CLIFFTOP & CHANTRY ROW
Clifftop & Chantry Row offers spectacular views of the Estuary. Guests can walk down to the Clifftop Rotunda, or Grotto, featuring sweeping views across the Estuary. Stop to hear Clough Williams-Ellis give an introduction to the village at the Soundscape under Bridge House.
3) BATTERY SQUARE & CAMPANILE
The Mermaid Spa is located in Battery Square. Walk over to the Mermaid Spa for beautiful coastal views. Battery Square is home to The Round House, which was the fictional home of Number 6 in the TV series The Prisoner. The Campanile Bell Tower is the focal feature of Battery Square.
4) CENTRAL PIAZZA
No Italian village is complete without a central piazza. The Central Piazza at Portmeirion features a fountain pool, Gloriette, Gothic Pavilion, the Bristol Colonnade and the giant chessboard.
5) SALUTATION SQUARE
In Salutation Square, guests will find the Triumphal Arch. Some of the best views of the village can be enjoyed from Salutation Square.
6) TOWN HALL
The historic Hercules Hall is located in this part of the village. Hercules Hall is an Arts-and-Crafts style village hall designed to house a Jacobean ceiling, panelling and mullioned windows salvaged from Emral Hall in Flintshire. You will also find the Hercules Hall and Tudor Room private function rooms in this area of the village.
7) THE HOTEL & QUAYSIDE
Explore the Coastal Path, Estuary, Amis Reunis, the Observatory Tower and the Casino at The Hotel & Quayside.
8) Y GWYLLT WOODLANDS
From the Triumphal Arch in Salutation Square, there are two main paths into Y Gwyllt Woodlands. Featuring 70 acres of woodland and 20 miles of walking paths, the Woodland is home to hidden treasures including the Dog Cemetery, Ghost Garden, Tangle Wood and the Chinese Lake. Guests can enjoy a breath-taking view of the village and estuary from the Gazebo, designed by Susan Williams-Ellis to mark the centenary of Clough's birth.
9) CASTELL DEUDRAETH
Removed from the main village, Castell Deudraeth stands proudly on the main drive in and out of the village.